Want to try double dating? We've put together an exciting list of the best double date ideas for couples, whether you're monogamous or polyamorous.
Why Try Double Dating?
Double dating is a great way to liven up your dating routine, and bring a new dynamic to a night out with your partner. Double dating is fun!
A double date may be short and sweet, or it can be an entire day or even an extended getaway or vacation.
Polyamorous people are open to loving many, and as such, often have multiple partners or lovers. Having more than one intimate relationship also lends itself to the idea of double dating, where two couples spend time together.
While double dating may not be for everyone, it can be a nice break from the ordinary and is a wonderful way to get to know others and build intimacy and trust.
Double dating is also a perfect playground for couples interested in opening up their relationship or exploring the swinger lifestyle.
Read: Quad Dating and Relationship Tips
21 Double Date Ideas
A double date can be fun, romantic, sexy, kinky, simple, or extravagant. All you need is a little imagination and some planning to make your next double date successful.
Here are some double date ideas to inspire!
Fun Double Date Ideas
1. Theme Park
Double your pleasure, double your fun! While some people are introverts and prefer a good deal of time alone, there are many who find the more the merrier!
Who doesn't love riding coasters where you can grab on and scream in delight or genuine terror. Too scary? Play games to win prizes or take a trip for four through the tunnel of love. It's difficult not to have fun at a theme park whose main goal is for guests to have fun.
Read: Couples Dating Sites: Find a Couple or Third
2. Bowling
You don't have to know how to bowl or be good at bowling to have a fun time. It's a great double date idea because you can gently tease your date, be a little competitive, or teach your date the rules.
Most bowling lanes have theme nights and a snack bar with food and drinks.
3. Sports Game
Depending on the group's interests and time of year, get tickets to your city's hockey, baseball, basketball, or football game.
It's not a cheap date, but the energy at major league sports games can be infectious.
Romantic Double Date Ideas
4. Movie
The dark quiet of a cinema lends itself to the perfect double date environment. You can cozy up in a row, hold hands, kiss, and anything else you want when the lights go low.
If it's summertime, go to the drive-in, pack the lawn chairs, blankets, and a cooler of snacks and drinks.
5. Wine Bar
If you love vino, why not plan a visit to your local wine bar for some sampling of their greatest hits. Usually wine bars are designed with romance in mind.
A day trip to a local winery is also a romantic double date idea. Often there are nearby accommodations if you want to make a weekend of it.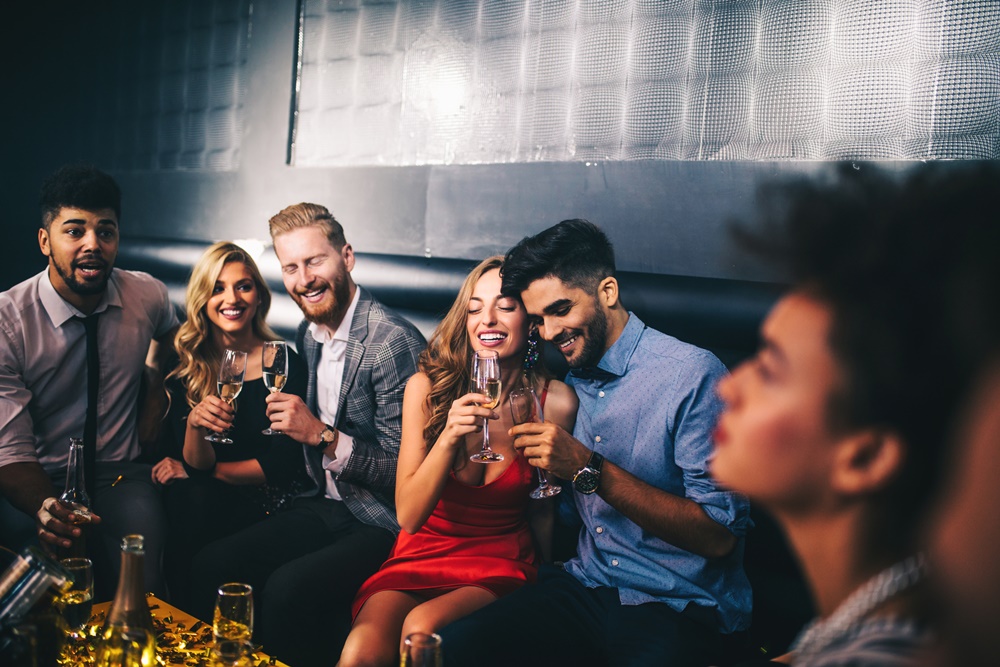 6. Couples Resort
I've noticed more and more couple-specific resorts popping up, some in metropolitan areas and others off the beaten track. If you love to mix in some outdoor adventure, book your next double date at a resort that caters specifically to couples.
Many of these resorts have in-room fireplaces or hot tubs to up the sexy factor. You may even be able to get adjoining rooms, if that's how you roll!
Read: Dating a Couple? What You Should Know
Sexy Double Date Ideas
7. Swingers Party
Your double date may involve swinging because you are all curious about swinging and The Lifestyle or because you already are swingers.
Swapping partners can happen in plain site or maybe the double date starts off with a dinner and get-to-know-you portion before splitting off for sexy fun.
Read: Swinger Date Ideas for Swinging Couples
8. Sex Club
Sex clubs offer a fun night that can offer up delightfully unexpected results. Maybe it's about one couple introducing the other to their favorite hang, or it may be a brand new experience for all four of you.
Enter in with an open mind and open heart, and do only what feels comfortable.
9. Fetish Night
Many clubs, not just BDSM specific, offer up theme nights that cater to sexually adventurous couples. If you and your partner love dressing up and showing off your wilder side in public, fetish nights are for you.
If you met the other couple on a kink dating site, this could be a big hit! And you're bound to meet other kinksters there too, if you are trying to broaden your kink community.
Read: 4 Places to Meet Kinky Women
Kinky Double Date Ideas
10. Kink Workshop
Although this may be too intimate for many couples on a double date, it may be perfect for those who know each other well and are interested in learning more about a specific kink or BDSM practice.
The workshop could be Foursome Positions for Kinky Couples or Advanced Oral Skills or Bondage for Beginners… so so many to choose from.
11. Sex Toy Shopping
For couples who have no issues talking about or exploring sex together, an afternoon of shopping for sex toys can be the perfect double date idea.
Map out the stores you want to hit and have fun with it. I don't know anyone who doesn't get a kick out of shopping for sex toys. It's a chance to not only learn about those in your group, but also yourself.
12. Mutual Masturbation
How close are the couples? If the answer is very, your double date may end with a kinky round of mutual masturbation.
The activity may just mean solo masturbation while watching porn together or you can make a game of it that involves edging or dirty talk.
Read: Poly Quad Date Ideas
Cheap Double Date Ideas
13. Conservation Park
Dates can be expensive, especially with four, but there are many fun activities that are perfect for those on a budget.
Enjoy a leisurely stroll through a conservation area or a local park. If you can spend a little, pack a lite picnic for four.
14. Virtual Date
Long-distance dating is nothing new, and it opens up the possibility to date couples all around the world. The best part? You date from the comfort of home.
Want to make your double date x-rated? Try naked or topless dating. Use your imagination to amp up the sexy quotient.
15. Camping
This is a perfect double date idea for outdoorsy folks who want to spend more than a couple hours with their dates.
A campsite reservation costs money, but it's cheap to split four ways. You'll be able to enjoy the beach, swimming, hiking, canoeing, campfire cookouts, and more!
Double Dates at Home
16. Games Night
Monopoly, Crazy 8s, Settlers of Catan, Minecraft, Fallout, or Wii—there is something for everyone in a stay-at-home, games-night double date.
You can be as competitive as you want, and you can also switch partners for teams to mix things up.
Read: Swinger Games: 11 Swinger Party Games to Try
17. Take-Out Tasting
Even culinary wizards like to take a night off. This double date idea has you ordering from 2-4 different restaurants, so everyone can share menu items from their fave haunts.
You can experiment with different cuisines from around the word, introducing one another to new taste sensations.
18. Renovation Remix
This double date idea may not seem fun to some, but those who like to get things done may get off on this. Each couple visits the other's home to help with some kind of fixer-upper project. May be simple like painting a small guest room, or it could entail laying new linoleum in the sun room.
Handyman projects are a perfect way to mix and mingle while learning a new skill. Order some pizza, open a six-pack and make work fun with a foursome.
Double Date Ideas for Winter
19. Skating
Plan a double date at the local indoor or outdoor skating rink, on a canal or nearby pond if safe. Beginners are always welcome, as there's something romantic about teaching someone to skate.
Even on a cold day, skating will warm you up quickly, and there's nothing cozier than snuggling up to a fireplace after with hot chocolate.
Read: Winter Date Ideas for You and Yours
20. Tobogganing
For the young at heart, tobogganing is a ton of fun for four. Borrow the neighbor's kids' sled or snow mat and pack up for a trip to the local hill.
You can ride solo, with your partner, or swap. Nothing will have you laughing more than seeing your dates flying over a hill or wiping out at the bottom.
21. Ski or Snowboard Lesson
Are you skiing newbies, or maybe you ski but have never tried snowboarding. Make a day of your double date and drive to a slope that offers lessons for beginners.
This double date idea will appeal to adventurous folks who also love to challenge themselves.
What do you see as the perfect double date? Please share!