Curious about swinger parties but not sure where to start? Learn how and where to find local swinger parties.
So, you and your significant other have been coasting on auto-pilot, going through the motions in bed. Things are okay, but the honeymoon period is definitely over, and you're complacent almost.
You then ask yourself what you can do to spice things up in the relationship. You say to your partner, "Have you ever wanted to go to a swinger party?" What if they say YES?!
Are you and your partner clear on what swinging means? Do you know where to find a swinger party in your neighborhood? Let me explain some things about swinging and help boost your confidence enough to walk into a key-swapping event or even host your own swinger party!
Read: How to Be Swingers: A Guide for Swinging Beginners
Swingers are couples sharing couples. Married swingers account for many of those found in the community, but it can be anyone of any age, culture, religion, gender, sexual orientation, or partnership.
There can be more than two couples in a group of swingers, but there are NO solo swingers. One of the core tenets of the practice in the swinger community is: "You arrive with your partner, and you leave with your partner."
At a swinger party you might leave with the phone numbers of four other people you want to fuck at some other point in the future, but generally swinging is a sexual sport played by doubles.
Read: Swinger Relationship Basics: What to Know
How to Find Swinger Parties
1. Attend Sex and Swinger Clubs
At some point, you just have to dive in with all the courage and confidence you can muster up. But fear not, fellow dreamer! First, you are not alone. You will have your partner to talk to. And you should be talking a lot with your partner—that's the only way you will sustain yourselves as swingers!
Speak up and express all the emotions you can—before, during if possible, and after every night out. Please accept that as a part of The Lifestyle! Don't Ask Don't Tell may work for some ethical non-monogamy folks, but not swingers.
You do not have to participate every time, or at your first few swingers parties! Feel free to just be a swinger voyeur with your partner, and watch the good times roll.
For sure, there's no pressure to do something with anyone else sexually at a swingers event… but once you get comfortable and connect to another couple, then you'll want to ask them if they want to play because that IS the reason swingers gather, to play as safe or as wild as wanted.
Read: What Is a Swingers Club and What to Expect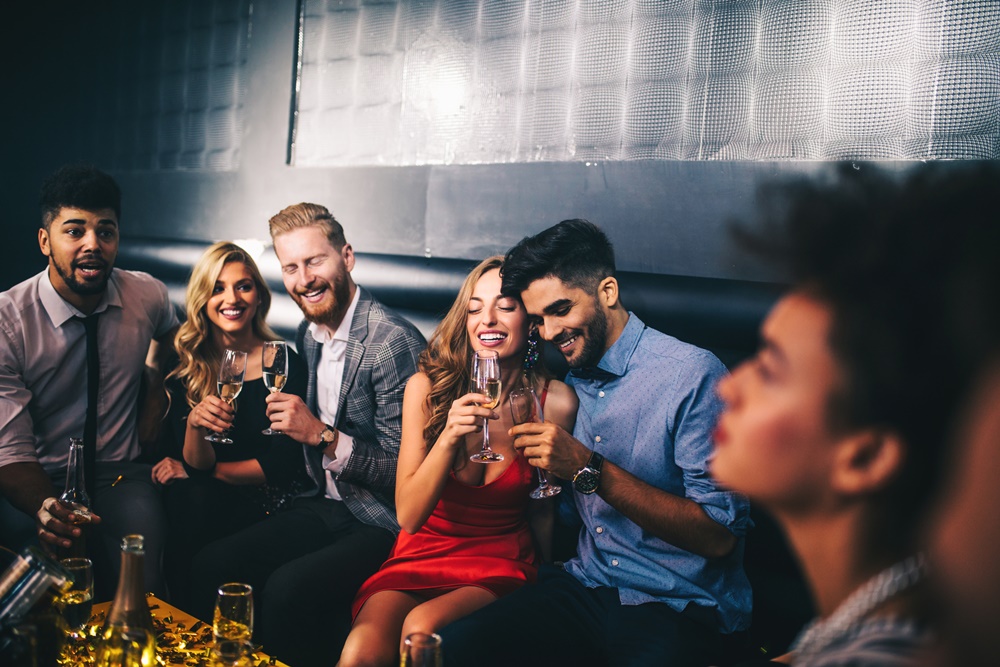 2. Look for Local Swinger Events
Swinger parties can be very underground, but until you meet members, you'll have to rely on your own legwork.
Simply Google "find local swingers" and begin your journey down the rabbit hole of where, when, how much, and how often your community has events that bring local swingers together.
There are often munches and public gatherings that allow swingers to mingle and meet without having the pressure of sexual connection. The energy at these meetups will give you a feel for the people involved and can be your gateway into the entire swinger community where you will be good to go.
Read: What to Wear at a Swingers Party
3. Network with Other Swingers
Definitely being comfortable with exchanging phone numbers and emails at a moment's notice will help you in finding partners to swing with and/or take you to other swingers events.
I was at a swinger house party recently, with many non-monogamous folks who I've already played with sexually. My partner was also there who had previously played with some guests in attendance. This wasn't a swingers-only party, but there were swingers there, along with all kinds of non-monogamous couples and individuals.
Read: ENM Relationships: 10 Examples of Ethical Non-Monogamy
Swingers are open to opportunities with new couples who are game, even if it only becomes a sexy one-off, because some swinger communities are small.
Swinger circles are a little more complicated than just "couples," but having terms to describe every sexual connection, situation, and relationship we can experience in The Lifestyle is impossible.
Some swinger bonds are just nebulous bliss you find. So, get out there and network. Share interest and desires through social media, online groups, video chats, and swinger forums.
Read: Swinger Date Ideas for Swinging Couples
4. Join Swinger Community Sites
If you are polyamorous, you may already be using polyamorous dating sites or online communities to meet individuals for secondary partners, group sex encounters or all kinds of open relationship fun.
Just as there are niche community sites for poly couples to find those interested in exploring polyamory, there are also niche sites for swingers and those like you and your partner who are new to The Lifestyle.
Read: How to Find Swinger Couples
Once you've discussed your expectations and boundaries with your partner when it comes to swinging, you can create a profile to meet experienced swingers who host parties and know where swinger parties are.
5. Host Your Own Swinger Party
When you're ready, after going to a number of swinger parties and seeing ALL the planning—guest lists, reservations, safe sex protection, comfort amenities, food and drink, sex toys and gear, and special party favors—you just might be ready to host your OWN swingers party!
Read: Swinger Games: 11 Swinger Party Games to Try
Maybe you can't find a swinger party that feels quite right, or open to new couples, or one that is close in proximity. You can throw a party that isn't labeled as a "swinger party," but is open to friends or acquaintances who you know to be in open relationships—a see-what-happens kind of sex party.
Provide ample sexy space, cool music, alcoholic and non drinks (lots and LOTS of water, Gatorade, juice, coconut water and various thirst quenchers), and a fruit and vegetable platter to replenish rapidly depleted calories!
Have money, time, and energy set aside for emergencies, because anything—physical, sexual, emotional—can break on you in the middle of a really good night. It might be the toilet, someone's third condom, or a jealous temper.
Go for it when you feel ready to host a swingers party. Invite old friends and new friends to help and attend. Invite me too… I'll bring my lover, and we'll swing and swap in the field of dreams together!
Read: How to Host a Successful Swingers Party
Are you ready to attend a swinger party? What are you expecting?